This is an awesome guest post by my friend Gretchen – I trusted her tips so much I finally gave Stitch Fix a try myself with great success! Here are her awesome tips…
If you're a busy mama, have I got a treat for you today! It is called Stitch Fix and it is pretty much a revolutionary way for moms to shop.
I speak from experience when I share your disgust of trying to shop with children in tow. Or maybe worse, rushing around the mall solo on a strict time frame while on the hunt for a specific item that fits well. Truly, going out and about to find an awesome outfit during the season of young motherhood can become super frustrating. I know, I'm there.
And that, my friends, is why Stitch Fix makes me so happy. It's the ultimate solution for moms who need a quality piece of clothing or two on occasion, but don't have time to shop. Read on to learn more about the Stitch Fix process and gather some of my top tips … I just received fix #12 so I've definitely learned a thing or two over the years of being a Stitch Fix lover.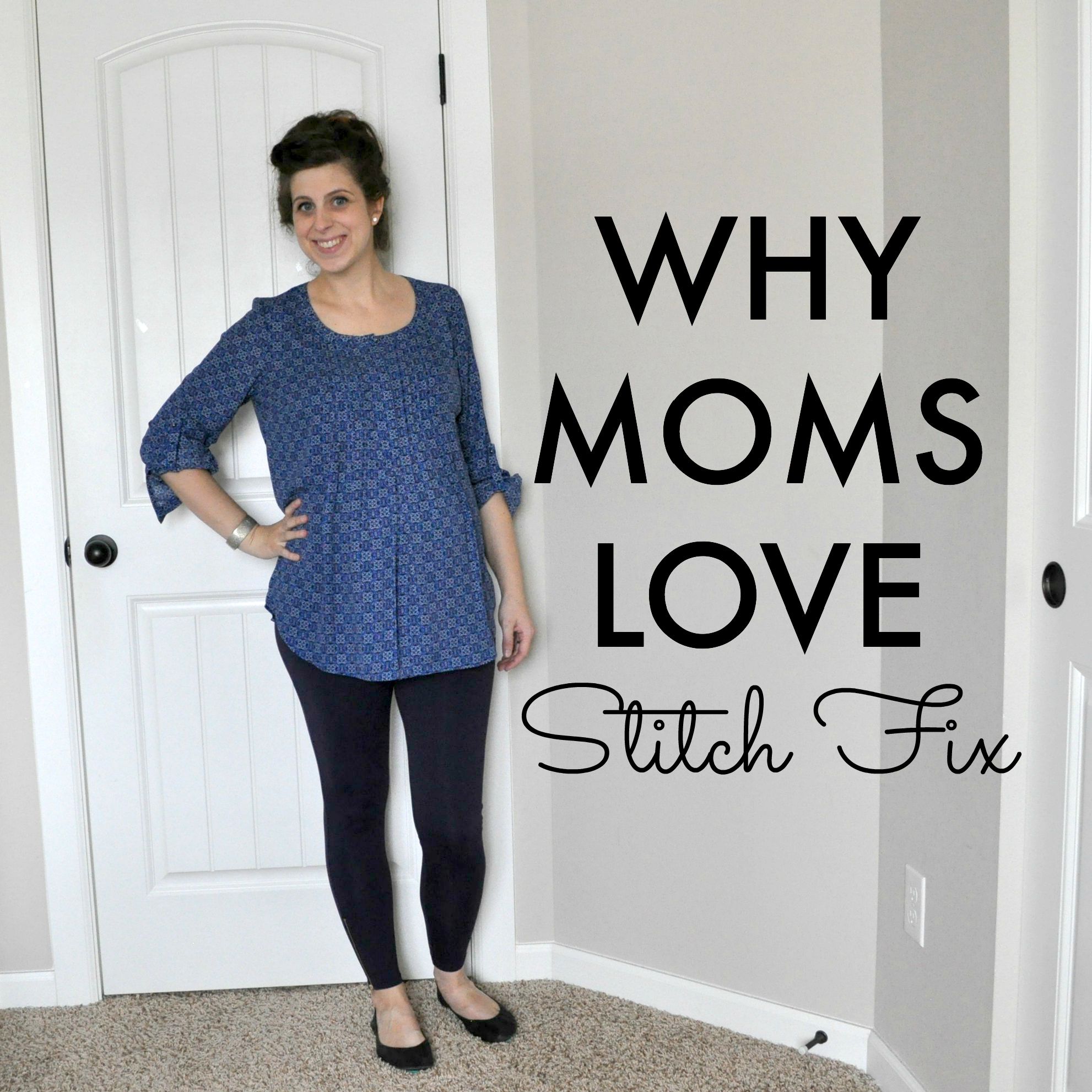 Here's how the Stitch Fix service works …
First, complete a style profile, it takes about 15 minutes and during this time you'll notate your size, style preferences, budget, lifestyle, etc. You can even submit the link to a style board on Pinterest so your stylist can get the "feel" of what you like!
Schedule the date you want your fix to arrive – depending on how busy they are, it's usually about a few weeks out from when you complete your profile.
A Stitch Fix stylist reviews your profile and hand selects 5 pieces just for you!
Your fix ships, you get to try on each piece in the comfort of your home and then return whatever you don't love or doesn't fit. Stitch Fix even includes a styling guide for each piece to give you ideas on how to put together outfits with your fix items.
Once your box ships you're charged a $20 styling fee, but that fee is applied to anything you choose to keep so you really don't lose.
After you make your final decision you complete a simple checkout process online – marking what items you are keeping and giving feedback on everything you received. Was the price right? The size? The style? And then a blank box to add specifics like "Too tight on the tummy :(" or "How did you know this color would look perfect on me!?!" If you keep everything in your box you save 25% off everything! Cool bonus, right?
Now, a few tips I've learned over the years …
Don't underestimate the power of your Pinterest board. Update it often and leave specific notes. Here's mine to give you an idea.
Join some of the BST groups on Facebook – just search "Stitch Fix BST" or "Stitch Fix BST size medium" or "Stitch Fix BST maternity". It gives you a great peek at what items are available.
If you get a bum fix (super rare), feel free to ask for a new stylist. Sometimes you just gotta mix things up! The BST groups are a good place to find various stylist names to request.
Be specific! When you schedule your fix, fill out the box with details of what you want. I've said things like "I'm heading to Yellowstone so need comfy road trip clothes" and "It's wedding/graduation season so I need a great basic, but fancy dress to mix and match my jewelry stash with". It can be more simple too like "I need jeans and prefer a high rise, but skinny leg cut" or "Never send me stripes or anything orange".
When your fix comes, take photos and share them on Facebook. This is the best way to spread the Stitch Fix love and earn a referral credit.
Schedule your fixes as often (or not) as you want. During different season of life my budget has allowed for one fix a year, sometimes once a quarter and other times, once a month. Stitch Fix has no penalties or gimmicks so you never have to worry about billing mistakes. You control it all.
If something goes wrong or unexpected – communicate! Communication is key with Stitch Fix and I promise you won't be disappointed with their customer service. It is spot on!
Ready to give Stitch Fix a go? It all begins with your Style Profile! You can complete it now and schedule a fix right away or complete it now and go back later to pick an exact date.
We'd love to see you again! Connect with us on Facebook, Pinterest and Instagram.
---
BY GUEST WRITER: GRETCHEN
Always full of words, it's no wonder Gretchen traded her 9-5 for days at home with her children and nights on the couch with her computer. Forever a Pacific Northwest girl, Gretchen prefers the rain over sunshine and thinks a coffee date with friends can solve most anything. If you're ever curious what she ate, wore, read or laughed about you'll find it on her lifestyle blog, That Mama Gretchen. And all things motherhood, of course. After all, being mom is the main gig these days.
P.S. Are you looking for extra side income? I make
full-time income blogging part-time
—check out
this easy step-by-step tutorial on how start a blog
(no tech knowledge required).
Download My Free Family Organizer
Ready to de-stress + spend more time with your kids?
Life gets busy. I hear you. I'm here to show you how to CREATE more time for what matters most. Get a free family organizer as a thank you for joining our newsletter – includes monthly calendars, chore charts, meal planners and more...