This is a sponsored post written by me on behalf of Florida Department of Citrus. All opinions are 100% mine.
New Year's Resolutions… in March!?!
or June! or August! or October for that fact!
It doesn't matter the month, we want to teach our kids that no matter what time of year it is, it's always the right time to dream, set goals, and improve ourselves!
3 Rules for Making the Best Resolutions
Keep it simple!
I'm sure we can all agree that the resolutions that seem to do the best job sticking around are the simple ones. Starting small is the best place to start. It's the small things, when done consistently, that add up to the biggest changes!
Lead by example!
Our kids are watching us!
They are much more likely to do as we do than as we say — although obviously, ideally we want both!
So if I want me kids to eat better, it starts with me eating better and then encouraging it down to them.
One of my goals this year is to incorporate more naturally nutrient-rich foods into my family's diet. But incorporating more fruits and veggies into our everyday life is a lot easier said than done! I've been trying for months now and even though we have had a few goods weeks I'm finding it hard to stay consistent.
That's when I realized rule #1, "Keep it Simple," also applies to us adults!
Starting "a year" off right  can be as simple as adding in a glass of 100% Florida Orange Juice everyday into our kids & our diets. Here are 5 amazing benefits from doing just that: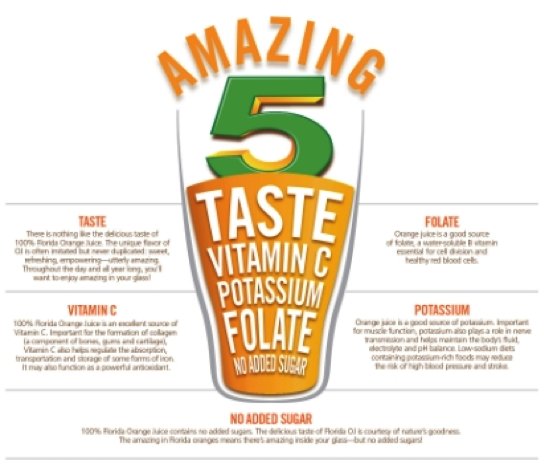 And remember, Orange Juice isn't just a breakfast item, incorporate into your day wherever it works best!
Make a goal chart!
Make it visual and make it fun! Our favorites are:
Charts that can be checked off as items are finished — that way they can see improvement as you go.
Jars that starts off empty and have a visual item added to them every time you make the right choice.
Charts which kids can add stickers too.
For more goal chart ideas check Pinterest!
That's it! It's as simple as 1, 2, 3.
Keep it simple.
Lead by example.
Make a visual goal chart.
Now grab a glass of 100% Florida Orange Juice and join the #AmazingInside Twitter Party!
Join the Twitter Party for a chance to win some goodies!
When: 3/4/2015 — 1:00pm-2:00pm EST
Prizes: 

(1) $200 Visa Grand Prize + FDOC swag
(1) $75 Visa Gift card + FDOC swag
(2) $50 Visa Gift cards + FDOC swag
(6) $15 Visa Gift Cards + FDOC swag

Hashtag: #AmazingInside
Host/CoHost: @ModernDayMoms and @BrettBMartin
Must attend party to win, winners announced throughout party.
Before you go… are you following us on Facebook and Pinterest yet?
P.S. Are you looking for extra side income? I make
full-time income blogging part-time
—check out
this easy step-by-step tutorial on how start a blog
(no tech knowledge required).
Download My Free Family Organizer
Ready to de-stress + spend more time with your kids?
Life gets busy. I hear you. I'm here to show you how to CREATE more time for what matters most. Get a free family organizer as a thank you for joining our newsletter – includes monthly calendars, chore charts, meal planners and more...