This is a sponsored post written by me on behalf of Hallmark Hall of Fame for IZEA. All opinions are 100% mine.
It's time for a family movie night!
I'm a huge Hallmark Hall of Fame fan, there's something about a good, clean family movie that just makes for the perfect night. That's why I'm excited to share with you about the premiere of AWAY & BACK this Sunday! Gather the family, pop some popcorn and snuggle up together while you watch.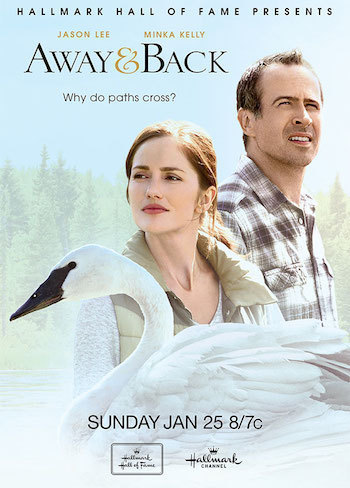 Watch the Trailer:
AWAY & BACK starring Jason Lee and Minka Kelly on Hallmark Channel
Synopsis of the Movie:
This is a heartwarming, family-friendly film that brings adventure, humor and romance. When a family of swans makes their home on the Peterson farm, it's love at first sight for 10-year-old daughter Frankie (Maggie Elizabeth Jones). But along comes no-nonsense ornithologist Ginny Newsom (Minka Kelly), who rushes in to "save" the majestic birds. For Frankie's dad Jack (Jason Lee), it's dislike at first sight when he encounters pushy, know-it-all Ginny. Frankie and her brothers are anything but neutral observers as they watch the initial hostility between their widowed father and the strong-willed Ginny transform into something else.
Mark Your Calendar:
The movie premieres on Sunday, January 25 at 8/7 Central on Hallmark Channel.
Enter the Sweepstakes:
AWAY & BACK Trailer – Share to Win Sweepstakes
Watch the trailer, sign up and share the trailer for a chance to win a family vacation!
P.S. Are you looking for extra side income? I make
full-time income blogging part-time
—check out
this easy step-by-step tutorial on how start a blog
(no tech knowledge required).
Download My Free Family Organizer
Ready to de-stress + spend more time with your kids?
Life gets busy. I hear you. I'm here to show you how to CREATE more time for what matters most. Get a free family organizer as a thank you for joining our newsletter – includes monthly calendars, chore charts, meal planners and more...